DICHROIC JEWELRY
STAINED GLASS
RELATED LINKS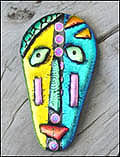 Ymir
Many people have asked us where the name Ymir comes from. Ymir is a an important figure in Norse Mythology. The giant Ymir was killed by Odin and his brothers and from the slain body heaven and earth was created.
One might say that Ymir became the source of a lot of creativety.



More information about art glass and fusing techniques for our Scandinavian visitors
Glass Forum
Ymir Glass Design is a small glass studio, situated in Bangor Maine. They specialize in fused dichroic glass jewelry, stained glass panels and three dimensional glass objects.

The work shown here is made by Bob Harris and Anne Reigstad. Before they started their glass business, Bob was a machine mechanic at Osram Sylvania in Bangor, while Anne for many years worked as a journalist in her home country Norway.

Working with glass started as a hobby, which has now developed into a growing business.
Space Age Glass
Our jewelry is made from several layers of dichroic glass and art glass fused together in a kiln at near 1500 degree F - often fired several times to get the desired effect.
Dichroic glass has become popular among glass artists and jewelry makers because of its vibrant colors and intriguing shine.
Because dichroic glass is a spinoff from the space industry, it is often referred to as "space age glass". The dichroic coating was originally developed by NASA and used in satellite mirrors.
Because of the coatings' ability to reflect almost all light energy, we can find it in Halogen lights, infrared lasers and movie making equipment.

Dichroic glass is now made commerceally for the glass art community. Actually, the term dichroic glass is incorrect. Dichroic is a coating so thin that it has to adhere to something, and glass is an ideal medium.
Many molecular thin layers of melted quartz crystal and metal oxides are deposited onto the glass in a vacuum chamber.
It's a complicated process that makes this glass among the most expensive in the world.

| | |
| --- | --- |
| Dichroic glass comes in a large variety of colors, patterns and textures. | The glass is cut and arranged into different designs. |
| Finished jewelry pieces are placed in the kiln for fusing. | The kiln has to be heated up to about 1500 F for the glass to melt. |
It's all about light

What we experience as color is the frequency - or wavelength - of light that is reflected back to us from the object we are looking at. The color we see is dependent on how much of the light is absorbed by the object, and how much is reflected.
If less then 1 % of the light is reflected, the object is black. If more then 90 % of the light is reflected, the object is white.
What's so intriguing about the dichroic coating is that all light energy is either reflected or transmitted. The coating itself is colorless.
So, why does jewelry made from dichroic glass have such vibrant, bright, sparkling colors?
The coating forms a crystal structure comprised of many layers, and the layers reflect different wavelengths of light. In other words; it's the thickness of the coating that determines what color we experience.
More technically; - the layers produce an interference filter. This interference effect can also be seen in nature, in a dragonfly wing or a bird feather.

Dichroic is a Greek word and it means "two colors." Dichroic glass transmits one color (the pendant on the right), and reflects another color (the pendant on the left).

In adition, a third color can be seen when you view the dichroic glass from an angle.
| | |
| --- | --- |
| We are proud that both the fish design pendant and the bug sculpture were among the Honorable mention winners in the 2006 contest at Coatings by Sandber Inc. The sealife plate was among the winners in the 2007 contest. CBS is one of the largest manufacturer of high quality dichroic glass in the US. | |